Welcome to St Helena Bay Break-Aways
Whatever your self-catering holiday requirements, be it a honeymoon, family vacation, get-away with friends or a business trip, we are confident that you'll find what you need with us. We have something for everyone – shoestring, budget, middle-of-the-road, luxury and all-the-bells-and-whistles.
We sincerely hope that your stay will be very pleasant and that you'll contact us again to book your next holiday.
We can't wait to welcome you to the beautiful West Coast!
About St Helena Bay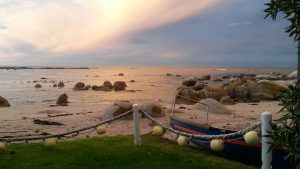 St Helena Bay is a beautiful, tranquil town on the West Coast in the Western Cape province of South Africa. Nicknamed by locals as Agterbaai, it is located on the shore of the bay from which it derives its name and is approximately 150 km north of Cape Town. It surrounds the towns of Vredenburg and Paternoster and is across the bay from Laaiplek.
Discovered by Portuguese explorer Vasco da Gama in 1497, the bay was named Bahia de Santa Helena (Portuguese for its current name) after Saint Helena, a devout Christian and mother of Constantine I.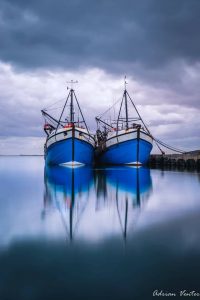 St Helena Bay is one of the world's prime fishing centres. The waters teem with marine life which provides the livelihood for its coastal inhabitants. It is home to Sandy Point Harbor, one of two ports to the bay. An abundance of snoek and pelagic fish is found here, as well as an endangered species of rock lobster and crayfish.
Its 31km stretch of coastline boasts 18 bays, three working harbors, stunning beaches and rock formations. St Helena Bay is also the only area in the Southern Hemisphere where the sun rises and sets across the bay, making for breathtaking viewing.
Endemic Heaviside-, dusky- and common dolphins visit the bay in search of food and the calm waters give shelter to southern right whales that come to mate and calve in the second half of the year. They can easily be seen from the shore. Humpback and killer whales are also frequent visitors.
Activities / Things To Do
St Helena Bay is a popular tourist destination, particularly during the spring wild flower season from mid August to September, with visitors and holiday makers from all over the world who come for relaxation and recreation. After good rains, the fields are bedecked in the bright colours of myriad flowers, making it a great destination for a winter vacation.
Ancient granite hills and boulders form a backdrop to the town. They offer stunning views to the ocean and the Piketberg mountains, while the pristine white stretches of beach are perfect for scenic walks and even a refreshing dip in the Atlantic.
Worth a visit is the monument on the actual site of Vasco da Gama's arrival, the Cape Columbine Lighthouse (19.7 km from St Helena Bay), and the West Coast Fossil Park outside Vredenburg.
Don't forget to bring your fishing gear – this is an angler's paradise! Our quiet bay is ideal for kayaking/canoeing and if you're into kite-surfing, brave the winds in Langebaan, only a 30 minute drive away.
Bird enthusiasts will find plenty of species to observe and record in their logbooks. Bring your bicycle to enjoy the local cycling routes, walking shoes for the various hiking trails or go horse riding on the beach.
Swing a club on the golf course at Shelley Point or pamper yourself at the spa in the Wellness Centre.
Food & Drink
St Helena Bay has a good selection of local coffee shops, restaurants and pubs to choose from.
Shopping
Although your day-to-day grocery needs will be met at the local SPAR, OK and butcher, the West Coast Mall in Vredenburg (only 25 km away) offers a wide variety of shops including a Woolworths Food and Checkers.
Bucket List
A not to be missed, bucket list item is a cruise on the Sandpiper yacht sailing from Port Owen in Velddrif (only 30 km away). This sleek, spacious, high performance 39ft catamaran features comfort and safety one can all too easily get used to.
Visit www.sandpipercharters.co.za and be sure to book your trip!